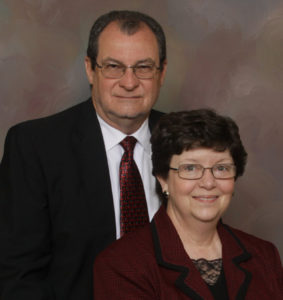 In 1975, while standing in some branches of a tree during archery season, focusing on his immediate surroundings, Dave heard a one-word call three times, "evangelism, Evangelism, EVANGELISM." What started out to be a general sense of calling, over time and with prayer, became a very specific call to cross-cultural missions. Celia received her call while serving as a counselor at a Christian Camp, and afterwards her sense of call strengthened and confirmed Dave's calling, defining that unique period in their lives. Using the next six years for preparation at Asbury University (formerly Asbury College) and Asbury Theological Seminary, and the next 18 months to gather the necessary prayer and financial support, the Evangelical Congregational Church seconded Dave and Celia to OMS. They served their first ten years in Indonesia. Subsequently they were reassigned to the world headquarters where they served in strategic leadership positions that expanded the outreach footprint of OMS from 14 nations and 10 indigenous denominations with 3,000 local congregations, to today's worldwide outreach of 72 nations with 22 indigenous denominations, and more than 42,000 local congregations around the globe.
Today Dave serves as a VP at-large for OMS administration as a missiological consultant and researcher, as well as a specialist in Islamics for OMS and its many partners. In recent years Dave has served to help OMS launch several new outreach ministries, including unreached peoples focus among Islamic immigrants in Europe through the formation and launch of the ministry known as the "Across Europe Project," expanding ministry out of the sub-Sahara African continent into the North Africa and Middle East, through the formation and launch of the ministry known as the "NAME Project," and exploring new pioneer outreach efforts among unnamed "limited access" countries in the Asia-Pacific Region, including his recent survey visit to Nepal. OMS has approved sending short term missionaries to Nepal as a result of Dave's recommendations. Dave is a member of the Coalition of Ministry to Muslims in North America (COMMA), and a member of the Vision 5:9 (Rev. 5:9) dedicated to reaching Muslims around the world.
Dave and Celia rejoice in the faithfulness of God who has sustained them as associate members of the Community Church at Murphy's Landing to establish His Church around the world, and expanding the Kingdom of God in the hearts and lives of His people. Among their foremost personal prayer concerns are their sons and their families. Ryan, Leanne, and Kathryn reside in AZ. Ryan is unemployed for more than four years. He needs healing and restored hope. His wife teaches sixth grade at a Christian school. Kathryn is in the fifth grade there. Daniel, Ali, and Elise reside in KY. Daniel is a free-lance web designer. Ali has a social media business. Elise is also a fifth grader.