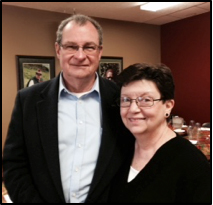 In 1975, while archery hunting, Dave heard a one-word call three times, 'evangelism, Evangelism, EVANGELISM." Over time, accompanied with prayer, it became a very specific call to cross-cultural missions. Celia received her call while counseling at a youth camp, which strengthened and confirmed Dave's calling. The next six years were preparation at Asbury University (formerly Asbury College) and Asbury Theological Seminary.
They gathered the necessary prayer and financial support and were commissioned to serve with One Mission Society (formerly OMS International). They served their first ten years in Indonesia. Subsequently, they were assigned to the OMS world headquarters, serving in leadership positions. During this time Dave completed his doctoral degree at Trinity Evangelical Divinity School, and the OMS outreach footprint expanded from 14 nations and 10 indigenous denominations with 3,000 local congregations, to today's worldwide outreach of 72 nations with 22 indigenous denominations, and more than 70,000 local congregations around the globe.
Since 2008, Dave has served as VP at-large, a missiological consultant, researcher, champion for ministry among Muslims, and an advocate for the Billion.Global coalition founded by OMS with more than 100 organizational members.
In 2017, Dave began a new chapter as the President of the Duewel Literature Trust (DLT), a legally separate, but integrally related, nonprofit organization, incorporated to share the inspiration, passion, and challenge of the late Dr. Wesley Duewel, former OMS President. His ten major publications on prayer, evangelism, and revival are available in 58 languages with 2.5 million copies in circulation around the world. Dave's current project is compiling, arranging, and editing Dr. Duewel's autobiography.
Dave and Celia rejoice in the faithfulness of God, who has sustained them through associate membership of the Community Church at Murphy's Landing, in establishing Christ's Church around the world, expanding the Kingdom of God in the hearts and lives of His people.