We offer a full worship experience designed for children which includes praise and worship music, skits, scripture reading, large group activities and age-based small group discussion time. We have a monthly theme that ties together the weekly Bible lessons which the children enjoy and are able to relate to.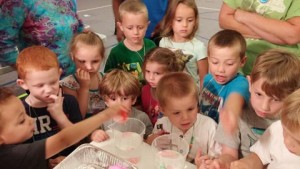 Each Sunday during the regular 9:30 worship hour, kids will have a full service called JAM (Jesus And Me) City, geared specifically to their needs and interests.
During the 11:00 Christian Life Class time, we work to broaden children's knowledge of the Bible through age-based classes, while continuing to encourage the children to be faithful followers of Christ.
God calls us to reach out to others and we do this through special events during the year. Some examples of these activities include: Vacation Bible School, Easter egg hunts, movie nights, mission projects, musicals and more. As you can see by these photos, we love bringing children to Jesus in a way they understand and appreciate.
Join us each week as we explore the Bible in wacky & messy ways!
Sign up sheet & registration forms are available in the Gathering Place or contact Ginger at ChildrenatCCML@gmail.com.
Call 317-807-0222 for details.
Dear Parents,
It has been a pleasure to get to know and work with your children since coming to Community Church at Murphy's Landing. My heart is to see your children growing in God's Word. I believe CCML children's ministries, in partnership with parents, should serve as a dynamic factor in their spiritual development. One of my primary goals is that your children are able to engage with and enjoy the ministries we have provided for them. In order to better accomplish this goal and to continually improve what we do, we have created a survey. Would you please take a moment to fill it out so that I can better serve you? Please feel free to be honest and open with your answers and any thoughts you may have. All answers will remain confidential. Thank you in advance for your feedback and partnership.
With love,
Ginger Chapman