Fueled by a relentless passion for children and justice, Jim and April are the directors of The Boaz Project, Inc. For over 15 years, they have impacted vulnerable children by helping leaders in their communities meet their physical, spiritual and educational needs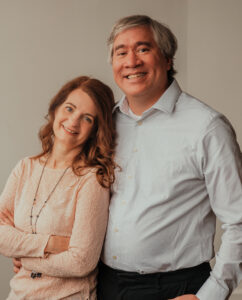 Having lived in Russia for two years shortly after the fall of the Soviet Union, the Jurgensens have long felt at home in the Russian culture. But it wasn't until 1999 that the Lord began leading them into a ministry to orphans.
Of course, He had been preparing them all their lives. Jim was adopted at three days of age and April gained a brother through adoption.
But when God began orchestrating an amazing series of events in the Jurgensens' lives, they realized how passionate God is toward orphans. "We wanted to be a part of His plan to reach them," said April.
In November of 1999, April founded The Boaz Project. By June of 2001, Jim was working full-time for the organization. "It is all God's doing," they say almost in unison; "We are just blessed to get front row seats!"
Jim handles the U.S.-based efforts of raising funds, accounting, and leading teams of Americans for Vacation Bible School and/or construction short-term trips. April employs and manages national believers to do the hands-on ministry to orphans. Between trips to visit the children who've stolen her heart, April seizes opportunities to write and speak about them.
The Jurgensens are both 1991 graduates of Taylor University in Upland, IN. Jim holds a B.S. in psychology and April earned her B.A. in writing. When they aren't globetrotting, the Jurgensens and their two teenaged children call Indianapolis home.