Sam and Tiffany are serving in Swaziland, Africa with The Luke Commission (TLC), a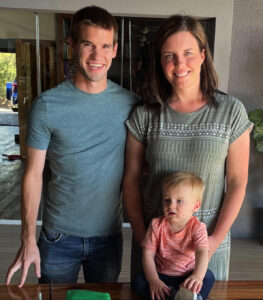 non-profit medical outreach extending hospital services and HIV treatment and prevention to thousands of rural Swazis who otherwise lack access to affordable health care. Tiffany graduated Cedarville University in 2009 and spent 3 years stationed at Fort Gordon as an Army Nurse before making the transition to full-time ministry with TLC in the summer of 2013. Her work as a nurse involves patient care at mobile outreaches to rural areas, assisting with surgeries, community and patient education, wound care, and on-site staff development and management.
Sam also graduated from Cedarville with a degree in Mechanical Engineering in May of 2014 and spent two and half years as a design engineer at Cummins Diesel Engine Co. in Columbus, IN. Sam and Tiffany met through an online dating site in December 2015, drawn together by a mutual passion for missions and a desire to serve. They were married in Swaziland in January, 2017, where Sam now serves with TLC in IT/Tech/Systems development areas. His work ranges from TLC campus network systems, device management, patient databases, IT assistance, and training in order to meet the increasing technological demands of day-to-day operations.
With over 150 Swazis employed at TLC, Sam and Tiffany serve alongside a strong team of international staff to develop, disciple, and equip the local Swazis to go out to the rural areas of Swaziland and deliver comprehensive, compassionate medical care with a servant's heart.