Greg and Mary Ellen Schrock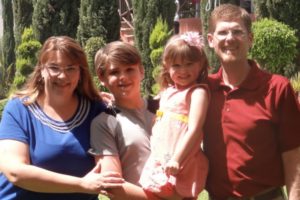 Since 2000, Greg & Mary Ellen Schrock are members of Wycliffe Bible Translators / SIL, and are involved with the Bible translation movement in Oaxaca, Mexico. They were committed to missions in their teen years, but had no idea how or where God would want them. In 1996, they heard the stories of Marilyn Laszlo who brought the Word of God to a people group in Papua New Guinea–and from that time on they were hooked with this simple goal: that the Bible be translated into every language on earth.
Bible translation is foundational to every part of Christian ministry; it leads to evangelism, discipleship and church planting. It leads to transformed lives as people learn to become passionate followers of Christ. Bible translation also has numerous side-benefits, including literacy, economic growth, and preservation of culture.
Mexico still has tremendous needs in the area of Bible translation. Mexico is one of the most linguistically diverse countries in the world, with almost 200 living, distinct languages. Primarily due to the work of Wycliffe, more than half of the languages now have at least a New Testament, and translation work continues in almost 60 languages.
Greg and Mary Ellen fill the less glamorous (but equally important) roles of finance & education. Greg is the Financial Controller of Mexico operations. He oversees four finance offices located at our various workshop centers. He is responsible for the overall financial statements & books for Mexico. Mary Ellen is the Children's Education Coordinator. She supervises the Wycliffe teachers and provides support for the home-schoolers. She also teaches part-time at Oaxaca Christian School.
The Schrocks have two beautiful children: Aaron and Sandra. They are currently living in Oaxaca, Mexico, where they have been since 2001.